What to Know About CNC Metal Parts
2020-05-26
Know about CNC Metal Parts
CNC Metal Parts Knowledge
El mecanizado es el proceso complejo de cortar la materia prima para satisfacer necesidades específicas. El proceso implica eliminar algo de material de la materia prima primaria para lograr el tamaño, la forma y el diseño deseados. Este proceso de mecanizado de piezas se denomina comúnmente mecanizado sustractivo. Muchas industrias requieren piezas de metal CNC para la producción o reparación de productos. Por ejemplo, la industria automotriz requerirá el mecanizado de piezas para la producción de automóviles y también cuando se trata de fabricar piezas de reparación. Y dado que fabricar estas piezas es un proceso complejo, la mayoría de las industrias preferirán subcontratar piezas metálicas CNC.
Usamos piezas de máquinas en nuestro día a día. Estas piezas van desde algunos diseños intrincados hasta piezas personalizadas. Un excelente ejemplo de mecanizado de piezas son las piezas de automóvil, por ejemplo, el eje. Las empresas que fabrican estas piezas tienen la herramienta y la mano de obra experimentada para garantizar que satisfagan las necesidades del cliente. Es posible que no necesite una pieza de metal mecanizada a nivel personal, pero sí el fabricante de su automóvil o su taller de fabricación de metal local. Pero, ¿cuáles son algunas de las características comunes de una pieza de metal CNC? Este artículo destacará algunos aspectos de las piezas mecanizadas.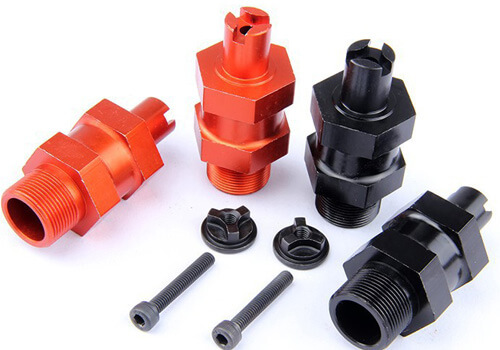 Muy preciso y de alta calidad.
There is a need for precision and quality when it comes to metal parts, for example, parts in engines, machines, and vehicles. This ensures proper fitting, durability, and effectiveness of the said part. This is where the need for CNC parts come in. The CNC metal part suppliers manufacture these parts using CNC technology. The technology is very dependable. This means no room for errors. The machines are very accurate with features such as positional accuracy, dimensional accuracy, and shape accuracy. Although machine tolerance is unavoidable, the results are within range, and hence quality is not compromised. The manufacturer also enhances accuracy by training the engineers controlling the CNC machines as well as investing in better technologies.
Support design verification
When you contact CNC Metal Part manufacturer for a prototype, they will use the end-use design materials to ensure that they achieve the final machined prototype parts. When you compare this to 3D printed prototypes, you will realize that CNC machine prototypes can use the end-use parts design materials to ensure they meet the authentic prototype function verification. The CNC metal part machining processing for prototypes are of high precision that satisfies the verification of product fit and also size. CNC machined parts and prototypes with superior quality provide quality prototype appearance for research or marketing display. This simply tells you that by working with the best CNC machining fabricators, you will know the exact look, feel, fit, and quality of the part before you can start the mass production. This allows you time to make some changes if you are not happy with the product.
Saves time
Unlike other precision parts, CNC machined metal parts are pre-engineered with features that allow easy assembling. For example, if an auto manufacturer wants machined parts for the engine and other vehicle components, they can place an order. When ordering, they will include customization needs more so if there is a need for precision. The machining parts supplier will then mass produce the parts and test them for quality, size, and design to ensure it is precisely what the client ordered. With such parts, fitting them is easy and fast, which saves money and time. Therefore, if you are looking for custom parts for your industry or business, you can enhance your experience by ensuring quick assembling where you save resources by working with the best CNC Metal Part dealers. Ensure that the company you are ordering from has the best technology.
Customization
When it comes to ordering machined parts, it is to your advantage of you can get custom parts. The modern El mecanizado CNC technologies allow customization. This means that if you are ordering metal parts, you get them in your specific design, size, and style without compromises on quality. Custom metal parts are essential as they make your business unique, and your customers can always distinguish your company products. The best part is that CNC machining companies will ensure not only customization but also accuracy. All you need when ordering your machined parts is to know what you need and then clearly explain that to the machining company. You can always ask for a prototype before going forward with the mass production. This also means that you do not order from any machining company, but rather a company that offers customization services.
No minimum quantity
Another aspect of CNC metal part is that as the client, you can order any number of parts without restrictions on quality. For example, let us say you need pistons but of different sizes. The manufacturer will not say that it is not economical to produce/fabricate 50 pistons of different sizes. The process is automatic, and all the machining company needs is to feed data, and you will have your pistons in the right sizes and quantity, and you will not pay more for that. The same case applies when you need only a single-piston. No company will force you to spend more since you only need one product. This is the beauty of CNC machining technology.
Multiple applications
You can use CNC machined parts in different industries. Since the machining technology allows the production of metals of different sizes, shapes, designs, and other customization needs, it simply means that there is something for every industry. Be it in the manufacturing industry, aeronautical industry, processing industry, auto industry, etc. Every market player can benefit from these machined parts. The best thing is that the right machining company can produce any CNC Metal Part for the different industries as all they need is to change the program. But it is wise to start with a prototype to know if it is the part you need. With a prototype, you can still make changes before proceeding to mass production.
Now that you know the aspects of machined parts am sure you know what to do when you need CNC metal parts. The bottom line is ordering from CNC machining companies with a good track record, those offering customization services, affordable services, and reliable delivery timelines. A guarantee of quality is also a plus.