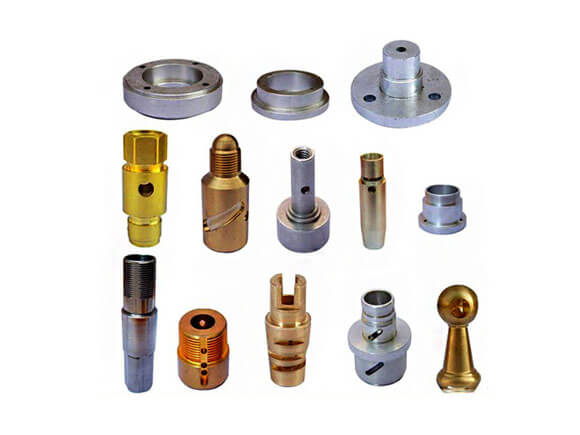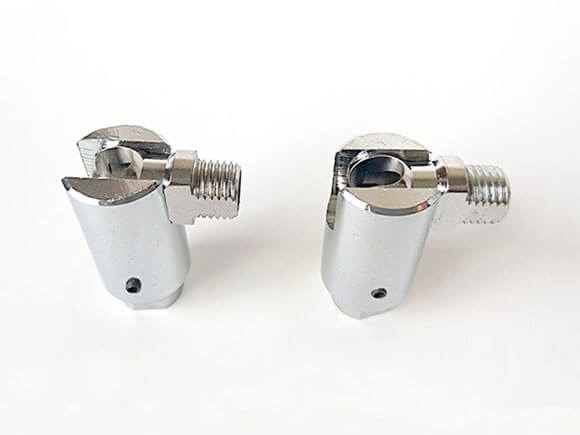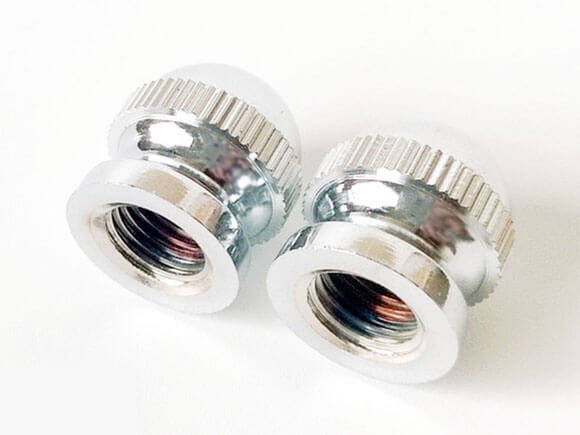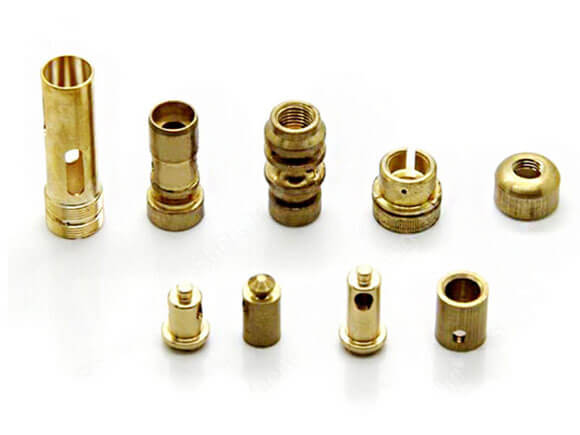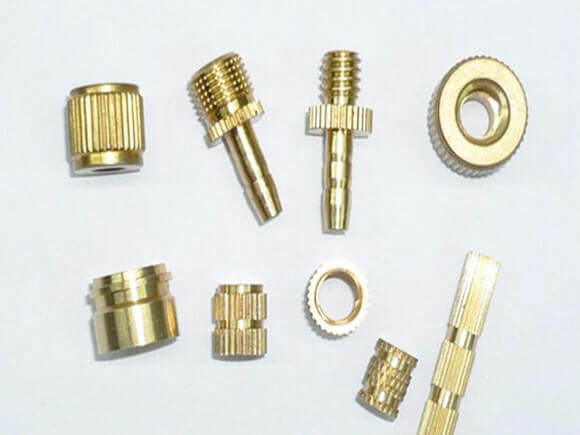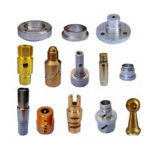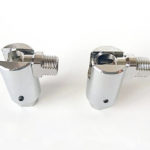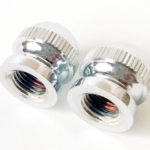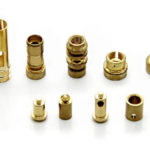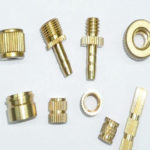 Exportador de metales de precisión de nuevo diseño de piezas de fresado CNC personalizado
Utilice seguridad inteligente
Repetibilidad constante
Mecanizado CNC ininterrumpido
Programación flexible en el taller
Fresado CNC inteligente para máxima productividad
Cuando necesite fresado CNC con alta precisión, solicítenos ayuda. Essai le ofrece fresados ​​CNC de alta calidad en una variedad de industrias.
CNC milling parts are the process of cutting and drilling material (like wood or metal). A milling machine, regardless of whether it's operated manually or through CNC, uses a rotating cylindrical tool called a milling cutter. It is held in a spindle and can vary in form and size.
The main difference between a milling machine and any other drilling machine is the ability to cut in different angles and move along different axes. For this reason, there are several kinds of milling machines, which are designated by the number of movement axes:
2-axis milling machines can cut holes and slots in the x- and z-axes. In other words, this machine will only cut vertically and horizontally (but only in one direction).
3-axis milling machines add the y-axis. This is the most common variety of milling machines. You can cut vertically and in any direction, but an object like a sphere will need to be done one half at a time. This is because, even with three axes, it's not possible to cut from below.
4-axis milling machines are more complex because they add the ability to rotate the x-axis, similar to a lathe.
5-axis milling machines incorporate rotation in both the x- and y-axes. This is the most complete milling machine you can have. It allows you to shape bones, aerospace structures, car models, medical products, and pretty much anything else you can imagine.
CNC milling machines can have any number of axes (2 to 5) but are operated through a computer. No manual operation required.

Types of CNC Milling Parts
Now we know that a CNC milling machine is any milling machine controlled through a computer. Yet, apart from axis classifications, there are still several types of milling machines, whether manual or CNC:
Vertical mill: This 3-axis milling machine consists of a table, which acts as a work surface, below an arm, to which the spindle is attached. Both the table and the arm are connected to a vertical column, and the spindle is vertically oriented. Generally speaking, the table moves up and down along the z-axis to intersect the fixed arm. However, how the table and the spindle move in relation to each other depends on the type of vertical mill. In a turret vertical mill, the spindle is stationary and the table moves along both the x- and y-axes. In a bed vertical mill, the table can only be moved along the x-axis, while the spindle can travel along the length of the arm in the y-axis direction.
Horizontal mill: This milling machine is similar to a vertical mill, except that the spindle is oriented horizontally instead of vertically. While generally considered less versatile than vertical mills, horizontal mills are better-suited to longer or heavy pieces of work. A universal horizontal mill has the additional capacity to rotate the table around the z-axis (making it a 4-axis milling machine).
Knee mill: Any kind of mill where the table moves up and down the column according to an adjustable knee.
Advantages of CNC Milling Parts
Rapid Turnaround: Using the latest CNC machines, Essai produces highly accurate, quick turn parts in as fast as 1 day.
Custom Finishes: Select from a variety of finishes on solid metal and plastic parts, built to precise design specifications.
Material Selection: Choose from over 50 metal and plastic materials. CNC Machining offers a wide variety of certified materials.
Precision: Offers high-precision tolerances ranging from +/-0.001″ – 0.005″, depending on customer specs.
Scalability: CNC Machining is perfect for the production of 1-10,000 parts.

The Benefits of CNC Machining
Whether you use our CNC milling service alone, or in conjunction with our precision laser tracking alignment and laser-guided machining services - as many customers do, you can look forward to the usual range of benefits:
Better machining accuracy than ever – and we'll do it on site.
Save time and money.
A proven solution-focused approach around the clock.
Global responsiveness.
One convenient source for CNC milling and the other engineering services you need.
Decades of expertise – when we action your on-site CNC machining you know you can trust us.
| | |
| --- | --- |
| Tipo | Broaching, Drilling, Etching / Chemical Machining, Laser Machining, Milling, Other Machining Services, Turning, Wire EDM, Rapid Prototyping |
| Mecanizado CNC o no | Mecanizado CNC |
| Material | Stainless Steel, brass, aluminum |
| Proceso | Turning |
| Capacidades materiales | Aluminio, latón, bronce, cobre, metales endurecidos, metales preciosos, acero inoxidable, aleaciones de acero |
| Sample | Available |
| Equipo | CNC Turning Centres |
| Drawing Format | PDF |
| Servicio | OEM personalizado |
| Tratamiento de superficies | Plating |
| Certificado | ISO 9001 |
| Paquete | Bolsas de plástico y cartón; Requisito del cliente |

Ventajas de depender de Essai
1. Die casting of aluminium products is offered at competitive prices.
2. We specialize in small metal alloy components for more than 14 decades now.
3. We employ the best professionals and modern techniques for making aluminium casting alloys and other products.
4. We offer services in diverse industries like hardware, computing, healthcare and automotive.
5. Our products are guaranteed to give you a good reputation and we stick to high standards of quality.
6. We do extensive testing of the products.
7. More than one solution is possible in our organization.
8. Your ideas and design will be given a new definition by our experts.
1. Smart CNC milling for maximum productivity
On high-volume production runs, parts per hour are all that really counts. For example, to achieve fast cycle times, you need to optimize your high-speed CNC machining processes using intelligent functionality that anticipates and learns. Good support for your applications helps to underscore this even more.
2. Flexible shop floor programming
If you are mass-producing components but need to produce different parts from time to time, you will benefit from the ability to:
Program on the machine.
Create machining cycles for applications such as cutting pockets, grooving, drilling or contouring.
Program measurement cycles.
Set zero points.
Estimate the time of a part program/machining time.
Measure the workpiece or the tool.
3. Non-stop CNC machining
To maximize production you will need intelligent software functions that prevent damage to CNC milling machines and tools and stop you from having to slow down or perhaps even interrupt the production process. Equally important is the ability to carry out intelligent preventive maintenance and get access to good maintenance services and parts. You will probably also want to choose a very reliable CNC with the highest MTBF you can find.
4. Consistent repeatability
To benefit from consistent repeatability and accuracy you will need to be able to calibrate your milling machine from time to time - especially the rotary axis on 5 axis machining - and be capable of doing it yourself.
5. Motors - your key to reliability
Depending on what and how much you produce, your machine will need a motor capable of maximizing output. More importantly still, it will need to keep on running no matter how many hours it operates. To find the right motor for you, you are best off talking to a reputable supplier with an extensive range of proven motors and spindles.
6. Optimize your cycle times using smart automation
Adding robots is a great way of increasing throughput on repetitive machining processes. Cycle times can be further improved by using smart software to streamline robots with your machining center. This could, for instance, allow tending robots to control the machine tool's door and improve productivity by increasing their ingress and egress speeds.
7. Use smart safety
Intelligent safety features supported by some CNCs make it possible to operate a machine tool with the door open or a tending robot without safety fences.
¿No sabes lo suficiente?
¡Bienvenido a contactarnos y comenzar su negocio ahora!



Habla a
Oficina : No.72-6, huanguan South Road, Longhua New District Shenzhen, 518110 China
Fábrica : No 333 Xiangmang West Road Qingxi Town, Dongguang, China