Aluminium extrusie
Het eerste proces van aluminium extrusie is smelten en gieten. Na batching, smelten en gieten wordt het uiteindelijk verwerkt tot een "ronde gietstaaf", een veelgebruikte grondstof voor aluminium profielen. Vervolgens wordt volgens de productdoorsnede van het aluminium profiel de mal ontworpen en vervaardigd. De extruder wordt gebruikt om de verwarmde ronde gietstaaf uit de mal te extruderen. Er is een luchtgekoeld afschrikproces en een daaropvolgend kunstmatig verouderingsproces tijdens de extrusie om de warmtebehandeling te versterken.
De aluminium staaf is blanco in het extrusieproces. De aluminium staaf voor extrusie kan massief of hol zijn, meestal een cilinder, en de lengte wordt bepaald door de extrusiestaaf.
Aluminiumstaven worden meestal gevormd door gieten en sommige zijn gesmeed of in poedervorm gesmeed. Het wordt meestal gesneden door de legeringssamenstelling van de aluminiumlegeringsstaaf aan te passen. De aluminium staaf wordt over het algemeen verwarmd tot 450 graden door een verwarmingsoven en vervolgens naar het vormstuk gestuurd. Ten slotte blijft ongeveer 10% van de aluminium staaf achter in de staafcilinder.


Voordelen van aluminium extrusie:
1. Verbeter de vervormbaarheid van metaal.
De extrusieverhouding van puur aluminium kan 500 bereiken, de extrusieverhouding van puur koper kan 400 bereiken en de extrusieverhouding van staal kan 40-50 bereiken. Voor sommige lage plasticiteit en moeilijk te vervormen metalen en legeringen die moeilijk te verwerken zijn of zelfs niet kunnen worden verwerkt met andere methoden zoals walsen en smeden, kunnen zelfs brosse materialen zoals gietijzer worden verwerkt door extrusie.
2. High comprehensive product quality
Extrusion deformation can improve the structure and mechanical properties of metal materials, especially for some aluminum alloys with extrusion effects. After quenching and aging, the longitudinal (extrusion direction) mechanical properties of the extruded products are much higher than other processing methods. Production of similar products
3. Wide range of products
Extrusion processing can not only produce tubes, rods, and wires with simple cross-section shapes, but also can produce solid and hollow profiles with very complex cross-section shapes, and the cross-section profiles of products that change in stages and gradually change along the length. The range of sizes is also very wide, from ultra-large pipes and profiles with a diameter of 500-1000mm outside the cross-section to ultra-small precision profiles with a cross-section-like size.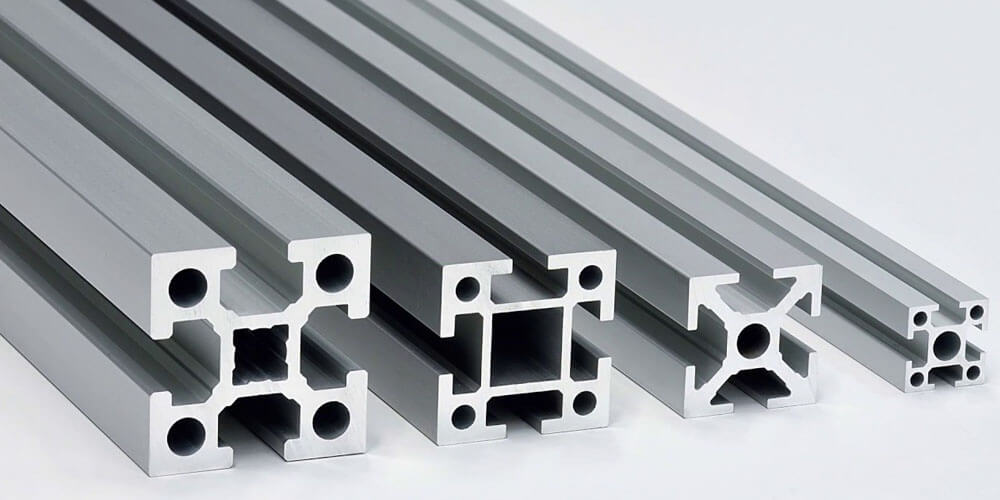 Essai can provide complete manufacturing solutions for aluminum extrusion products, including surface finishing, machining, cutting, and assembly. The alloys used include AA6060, AA6063, AA6061, AA6005 and AA6082.
We extrude various aluminum alloy series in the finishing process from 6 'to 25', we provide a wide range of custom molds to suit various shapes and sizes (Grooved, hollow or solid), so we encourage you to send us your design for a quote.
We have 10 domestic advanced entire automated productions running water production lines, more than 40 domestic advanced production equipment, mature technology, and work team.
1. According to your design ideas or drawings.
2. We can provide your with the best raw material, excellent price, cost-effective.
3. In strict accordance with ISO quality control Richard, we will strict material control, will purchase of high purity aluminum of raw material of aluminum alloy.
4. We will Formulate a reasonable production plan and establish corresponding follow-up system unification, the responsibility to the person; The delivery date is guaranteed according to customer requirements. Arrange production, urgent order, quick order quick processing, to meet customer urgent supporting production of single/small orders.
5.receive design-design-tool make-produce-post process-surface finish.
6. The products can do all kinds of color or processes depend on your request, such as sandblast and anodize, etc.
Serie 1: serie 1000 van gelegeerd aluminium ---- 1050, 1060, 1100, etc. Zuiverheid kan oplopen tot meer dan 99,00%, 1050 en 1060 worden meestal gebruikt.
Series 2: series 2000 of alloy aluminium----2024, 2A16, 2A02, etc. Usually used for aviation.
Series 3: series 3000 of alloy aluminium----3003, 3A21, etc. It is a good rust-proof function.
Series 4: series 4000 of alloy aluminium----4A01, 4000, etc. Belongs to building materials, suit for mechanical and welding.
Series 5: series 5000 of alloy aluminium----5052(Almg3), 5005, 5083, 5A05, etc. It can also be called an aluminum-magnesium alloy. The main characteristics are low density, high tensile strength, high elongation, good fatigue strength.
Series 6: series 6000 of alloy aluminium----6061, etc. It contains mainly magnesium and silicon, it is a more common use for extrusion.
Series 7: series 7000 of alloy aluminium----7075, etc. It mainly contains zinc. Also belongs to the aviation series, is aluminum-magnesium zinc copper alloy, is a heat treatable alloy, belongs to the superhard aluminum alloy, has the good wear resistance, also has the good weldability, but the corrosion resistance is less.
Series 8: series 8000 of alloy aluminium----8011, Most of the applications are aluminum foil, the production of the aluminum rod is not very common.